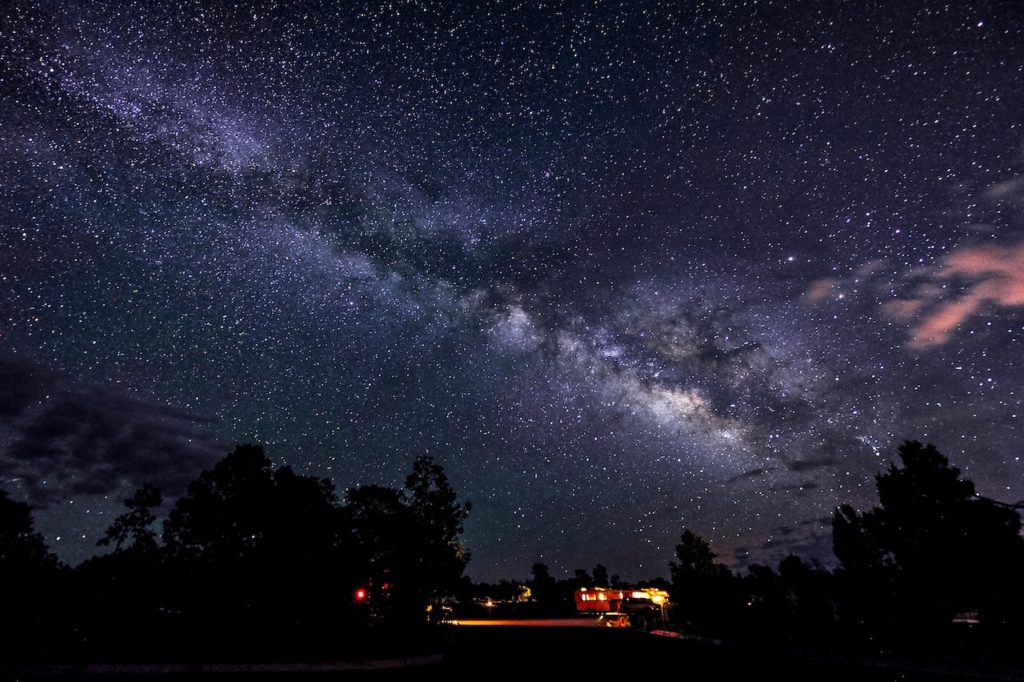 Where are the best places to go for a view of the dazzling night sky? Here are 5 top US destinations you can visit to see the stars and why we think they're truly unique:
Natural Bridges National Monument, Utah
The Natural Bridges National Monument contains three natural sandstone arches in an area of outstanding beauty. You can camp under the stars in the Natural Bridges campground on a first-come, first-served basis, and RVs of up to 26 feet are allowed on-site. There are also tons of natural trails for you to hike, some of which take only minutes, others all day for more experienced hikers.
But what makes this site truly unique is the night sky. You can gaze up in wonder at a sky full of stars through the pitch-black arches that give Natural Bridges its name. National parks are the perfect place to see the best vistas nature has to offer because they can boast a view of three times as many stars as urban areas. The National Bridges National Monument was the first park certified by the International Dark-Sky Association, a group who aims to protect the US night sky from light pollution.
Big Cypress National Preserve, Florida
Big Cypress is home to almost 730,000 acres of swamp life and thousands of different plant communities. It's the perfect location to take a swamp tour or camp in your RV. Big Cypress's stunning night sky boasts an impressive lack of light infiltration that allows you to enjoy thousands of stars silhouetted against the trees. Park rangers have gone to a huge effort to make the Big Cypress National Preserve a registered member of the International Dark-Sky Association by retrofitting lights in order to preserve the ability to see the stars.
Death Valley National Park, California
Death Valley is the hottest, driest, and lowest national park in North America. If you visit in the winter, you'll be able to see the unusual and beautiful combination of snow-capped mountains contrasting the golden desert. You can also view unusual rock formations like Artist's Palette. The panoramic view from this flat desert valley gives you an endless horizon of stars to see. Bring binoculars and get in an elevated position for maximum impact! 
Mayland Earth to Sky Park & Bare Dark Sky Observatory
Nestled in the Blue Ridge Mountains and surrounded by Pisgah National Forest, Mayland Earth to Sky Park is owned by Mayland Community College. In 2017, the college opened a new observatory open to the public with a roof that can open so you can see the stars. This area is specifically tailored for the night sky, with its own telescopes for public use. It's the perfect kid-friendly place to bring the whole family, with a public planetarium also in the works.
Owyhee Canyonlands, Oregon
These dramatic canyons are the perfect place to see the night sky. The Canyonlands have remained untouched for thousands of years and are an unparalleled area of natural beauty. Vivid wildlife combines with rugged scenery to create a stunning visual display. This site is also the ancestral home of three indigenous tribes. The Canyonlands are famous for their unbelievable view of the stars as one of the last places to see the night sky unaffected by light pollution.
Dark Sky Locations
Try looking up more International Dark Sky locations to find the perfect places for RV travel and stargazing from your RV. Make sure to do your research beforehand, as not all sites provide camping facilities, and you may have to walk over rugged terrain to get to the best viewing spots. Consider the ground or walking distance when bringing kids, and make sure to bring water and layers of clothing if you're looking at the sky at night.
Check out Tochta's custom mattress builder to get the most comfort during your travels to search for the best night skies. With the perfect custom mattress for every RV or truck, you can stare at the stars from the comfort of your very own customized mattress through your open RV or truck bed.