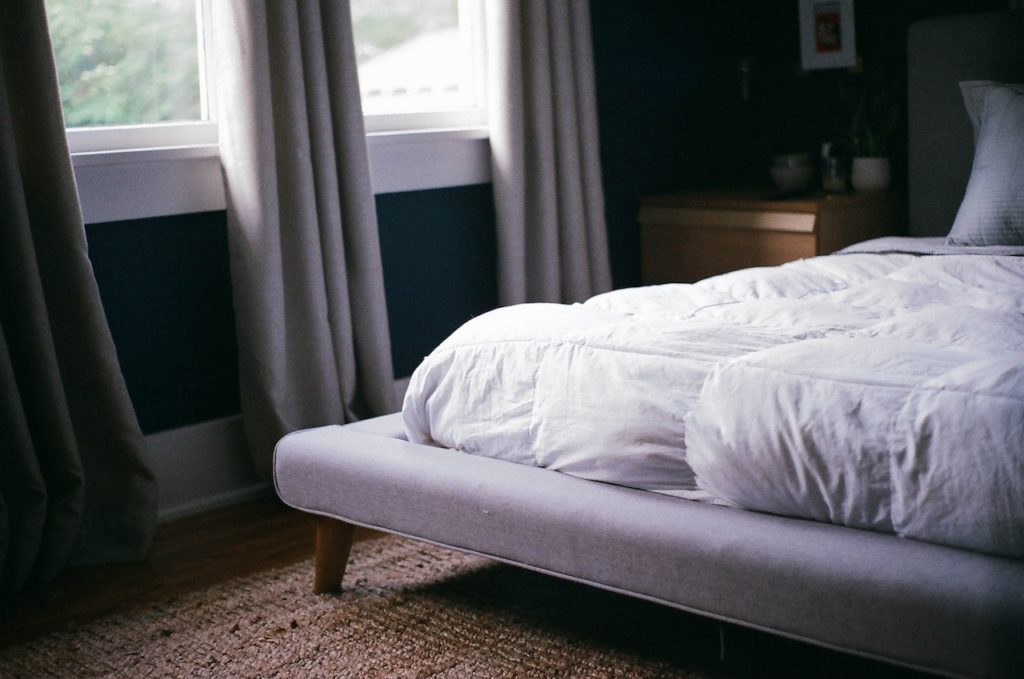 Choosing the right mattress can be a challenge, especially because there are so many different types to choose between.
One of the basic considerations most people take into account when it comes to mattresses is firmness. Mattresses come in a range of hardnesses, and whether you prefer a softer or a firmer one often depends on your sleep patterns, health, and what you're accustomed to sleeping on already.
We'll give you the rundown on firmness and how a Tochta mattress offers the best of both worlds when it comes to softness and hardness.
The Benefits of a Firm Mattress vs. a Soft Mattress
Advantages of a Firm Mattress
First, let's look at the advantages of sleeping on a firm mattress.
A firmer mattress is ideal for anyone who is in need of more lower back support, as its stable surface provides support. This can also help with your oxygen intake. Because a firmer surface absorbs more pressure, your muscles face less strain and your circulation can be improved by sleeping on a firm mattress.
Ideally, a mattress should align your heads, shoulders, hips and heels, and hold your spine in a neutral position. A firmer mattress can help facilitate that neutral spine position (especially if you're a back or stomach sleeper).
As far as practical considerations go, firm mattresses absorb more energy, so if your partner tosses and turns at night, you'll be less likely to feel disturbances if you have a firmer mattress.
One downside of a firm mattress is that you may find it uncomfortable if you're used to one that's more cushioned. However, people usually quickly become accustomed to the difference. 
Benefits of a Soft Mattress
As you can see, there are plenty of benefits that a firm mattress provides. But the same can be said of soft mattresses.
In general, a softer mattress is going to provide more cushioning. Not only can this feel comfier, but it's beneficial for side sleepers, as it cushions your hips and shoulders. This can also provide some relief for those with conditions such as scoliosis, arthritis, or back pain, for whom sleeping on a firm mattress can become painful.
Especially for lighter people, softer mattresses can still offer substantial support, but heavier people may find they sink too much and that a firmer mattress suits them better.
And, as you might imagine, many people enjoy the comfort of a softer mattress over a harder one.
How Construction Affects Mattress Firmness
Knowing the different ways firmness affects your sleep, let's take a look at what makes your bed firm or soft.
Mattresses can be made out of various materials, including springs, foams, and wool or other batting materials.
In a spring mattress, the springs used in its construction will determine its firmness. A firmer mattress will use springs with a larger diameter, while a softer mattress will use smaller springs. Spring mattresses will usually come with a pillow top that provides cushioning, but will likely be unsupportive.
In a purely foam mattress, layers of different densities usually form the basic construction and determine the mattress's firmness. However, firmness is not only affected by the foam layers' densities, but also by the quality of the foam itself. A foam mattress can provide both firmness and softness, but only if the foam is truly high quality.
How a Tochta Mattress Is Different
We've explained the benefits of soft and firm mattresses now, and each definitely has their perks. So why can't you get the best of both worlds?
With a Tochta mattress, you can. We look at firmness in a totally unique way that stems from the care we take in constructing our mattresses. When you get a Tochta mattress, you get the support of a firm mattress with the comfort of a soft mattress. Here's how:
A Layered Approach
Tochta mattresses are constructed using the highest quality materials. Each is made of several layers of foams with different densities and qualities that complement each other. The middle and bottom layers consist of high-density foams that, together, create a firm, supportive base, while the top layer of each mattress is a gel memory foam layer that is, the premier comfort layer in the industry today.
Premium-Quality Foams
You've probably seen the gimmicky memory foams that leave an impression of your hand after you press on it, but that's not the type of material that really supports your body. Our foam is made of quick-recovery material that gives you pressure-point relief for hips and shoulders, but doesn't make you feel like you're sinking into a mold.
Plus, our authentic gel memory foam is designed to absorb your body heat and wick it away from the surface to keep you from getting too hot, which is a common problem with normal memory foam. Many purported "gel" foams are diluted and don't actually produce the advertised benefits; but ours are the real deal, containing thousands of gel beads that work on a molecular level.
Final Effect
Our premium performance foams introduce people to a whole new world of sleep by giving them the benefits of both firmness and softness. They are both soft and supportive, pushing back where you need support instead of just using cheap foams to fill space. The net result creates a "zero-gravity" feeling for your body.
The mattress market is flooded with low-quality products. That's why we dedicated ourselves to creating the perfect mattress, creating over 50 prototypes until, in our Utopia mattress, we found the right combination of high-quality foam layers that's as near perfect as possible. And it works equally well for a 100- or 300-pound person, making it a mattress perfect for anyone.
But for those who want even more customization, our Divini mattress also features removable layers that let you customize your mattress according to the level of firmness you want.
Both Firm and Soft
When people ask whether our mattresses are soft or firm, we say that they're both. A Tochta mattress is soft everywhere you want it, but firm everywhere you need it. 
Hopefully you now know a little more about mattress firmness and have a better idea of the benefits both soft and firm mattresses can offer. With a luxury mattress from Tochta, you can get the best of both worlds, giving you the perfectly optimized mattress to suit your needs and support your sleep!