Owning an RV is popular for frequent travelers in the United States. Currently, over 11% of US households own an RV for recreational or living purposes. RVs are popular because they allow people to save money in traveling while providing all the comforts of home—almost all RVs are equipped with a kitchenette, a bathroom, and beds for sleeping. 
The problem is, RVs come with a thin, bare-bones mattress in the bed. The mattress that comes with an RV is most often made by the RV manufacturer, not a real mattress manufacturer that specializes in making mattresses optimized for comfort, health, and sleep. Because no one wants be be exhausted from a terrible night's sleep when they're trying to drive across the country or enjoy a well-deserved vacation, many people soon find themselves on the hunt to purchase a better mattress for their RV.
However, there's one more problem here—RV mattresses are often made differently from regular mattresses because they are optimized to be lighter, shorter, and leaner than standard mattresses. Their sizes and shapes are also different, with some made narrower than standard sizes or with corners cut out to fit a certain shape for RV bunk beds or hideaways.
Luckily, Tochta's put together some of the most common sizing standards when it comes to searching for your new RV mattress. Here's our list of common RV mattress sizes and measurements, and how to find the right-sized mattress for your camper, trailer, or RV!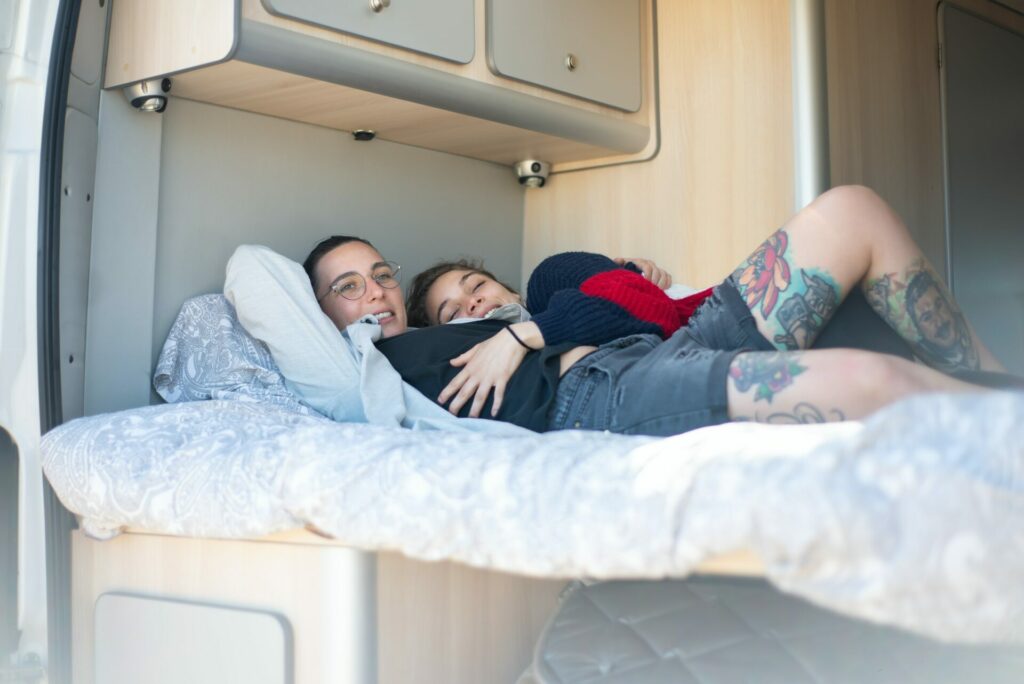 RV Twin Mattress Sizing
Twin RV mattresses most often come in two measurements: 
28 inches by 75 inches (71.1 cm by 190.5 cm)
28 inches by 80 inches (71.1 cm by 203.2 cm)
Although these are the most common measurements, they'll also frequently come in any measurement up to 39 inches by 80 inches (99.1 by 203.2 cm). They use twin mattresses as chairs or bunk mattresses in RVs, and they can be a good fit for compact RVs. You can easily fit one person or two kids in this type of mattress.
RV Bunk Mattress Sizing
RV bunk bed mattresses are very close to twin mattresses in size. Bunk mattresses are generally the smaller of the two, although the size range overlaps. The main difference between the two is that bunk mattresses are often narrower and may have cut-out corners to accommodate bedposts.
Some common bunk mattress dimensions include:
28 inches by 75 inches

(71.1 cm by 190.5 cm)

42 inches by 80 inches (106.7 cm by

203.2 cm)
And everything in between.
RV Full Mattress Sizing
A full-size RV mattress measures 54 by 75 inches (137.2 cm by 190.5 cm), an inch bigger than the full-size mattress found at home (they measure 53 by 75 inches – 134.6 cm by 190.5 cm). Full mattresses are compact but can still easily sleep two people.
RV Queen Mattress Sizing
Like the RV twin mattress, the RV mattress queen comes in several sizes.
A regular queen mattress measures 60 by 80 inches (152.4 cm by

203.2 cm

).

A three-quarter queen RV mattress has a measurement of 48 by 70 inches (121.9 cm by 177.8 cm).
A short queen mattress measures 60 by 75 inches (152.4 cm by 190.5 cm). 
Short queen RV mattresses are especially popular to use in converted vans, since the extra inches off the length gives you more room for a living area and storage. In such a confined space, 5 inches of more room can make a big difference!
Because of the different sizing standards, it's always recommended that you measure the space where your mattress will go beforehand, even if your RV labels the space as a "short queen mattress" or a "regular queen mattress," since those standards may vary from brand to brand.
RV King Mattress Sizing
If you're a tall person, an RV King mattress might be a good fit for you. Like the queen mattress, it has different sizing options. These are the typical measurements:
An RV King measures 72 by 80 inches (182.9 cm by 203.2 cm).
An RV Short King measures 72 by 75 inches (182.9 cm by 190.5 cm).
An Eastern King measures 76 by 80 inches (193 cm by 203.2 cm).
Finding the Right Size for Your RV Mattress
The best way to measure the size of the mattress fit in your RV is to measure the support the mattress will sit on. Measure the inside of the frame or cutout where the mattress will go, including any corner indentations. Based on those measurements, you may be able to find a standard-sized mattress that will fit—but the best solution to ensure your bed fits perfectly in your RV will always be to get a custom mattress made. (Hint: It doesn't even have to cost more! All of Tochta's quality mattresses are customizable in size and shape down to the inch, and they're priced competitively with non-customizable mattresses of the same quality!)
The depth of your mattress generally won't matter as much, but you'll also want to measure the depth if it needs to be able to fold away, or potentially if it's on top of a bunk with very little space between the bed and the roof of your vehicle.
Can't Find Your Mattress Measurement?
If the RV mattress size from the list above doesn't fit your particular RV, you can order a tailor-made mattress for your RV (or camper, home, or truck!) to whatever size you want. Tochta's mattress builder lets you make sure your bed fits every hinge and corner of your space so you don't have to worry about your brand-new, much-comfier mattress not fitting. Every Tochta mattress is made with "quick recovery" memory foam that provides premier comfort. Our scientific approach to mattress design means we've tried and tested every material and design possible to bring you the best RV mattress for unbeatable sleep!
The process is easy, and once your mattress arrives in the mail you'll be ready to start adventuring during the day and sleeping exceptionally well at night! Customize your mattress now.